Mrs Mary Elizabeth Jennifer Rachel Abergavenny 'Betty' Slocombe
, née
Yiddell
, was portrayed by Mollie Sugden between 1972 and 1985.
Funny Phrases
- Weak as water! Weak as water!
- If my pussy saw that, it'd be straight up the curtains.
- Men are very polite these days. They never try anything!
- Where exactly is this pub?
- And I am unanimous in that!
- Oh, that does suit madam.
- Mr Akbar, this is Mrs Slocombe, your next door neighbour. I wonder if you could do me a favour? Would you go next door to my flat, bend down and look through the letterbox? And if you could see my pussy, would you drop a sardine on the mat?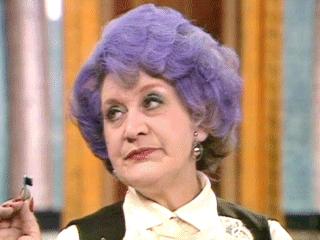 Community content is available under
CC-BY-SA
unless otherwise noted.