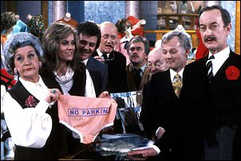 This is a list of the 69 episodes of Are You Being Served? that were aired between 1972 and 1985.
Series 1 (1972-1973)
Edit
Series 2 (1974)
Edit
Series 3 (1975)
Edit
Series 4 (1976)
Edit
No Sale
Top Hat And Tails
Forward Mr Grainger
Fire Practice
Fifty Years On
Oh What A Tangled Web
The Father Christmas Affair
Series 5 (1977)
Edit
Mrs Slocombe Expects
A Change Is As Good As A Rest
Founder's Day
The Old Order Changes
Takeover
Goodbye Mr Grainger
It Pays To Advertise
Series 6 (1978)
Edit
By Appointment
The Club
Do You Take This Man?
Shedding The Load
A Bliss Girl
Happy Returns
Series 7 (1979)
Edit
The Junior
Strong Stuff This Insurance
The Apartment
Mrs Slocombe, Senior Person
The Hero
Anything You Can Do
The Agent
The Punch And Judy Affair
Series 8 (1981)
Edit
Is It Catching?
A Personal Problem
Front Page Story
Sit Out
Heir Apparent
Closed Circuit
The Erotic Dreams Of Mrs Slocombe
Roots?
Series 9 (1983)
Edit
Sweet Smell Of Success
Conduct Unbecoming
Memories Are Made Of This
Calling All Customers
Monkey Business
Lost And Found
Series 10 (1985)
Edit
Goodbye Mrs Slocombe
Gambling Fever
The Night Club
Friends And Neighbours
The Pop Star
Community content is available under
CC-BY-SA
unless otherwise noted.