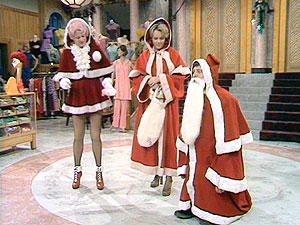 The staff of Grace Brothers dressed up on many different occasions. This is a list of the episodes in which the staff wear costumes or dress up for parties.
Camping In: The staff wear pyjamas to sleep in the store.
The Clock: The staff wear dinner jackets and evening dresses for Mr Grainger's birthday dinner.
The Think Tank: The staff put on a fashion show called 'Male and Female Modes on the Move'.
German Week: The staff put on lederhosen to perform a German folk dance.
Christmas Crackers: The staff dress up in novelty costumes to push Christmas sales.
Top Hat And Tails: The staff dress up for a ballroom dancing competition.
The Father Christmas Affair: Someone must pose as Father Christmas and everybody applies.
The Old Order Changes: The staff dress in an informal way in keeping with new American sales techniques.
Takeover: The staff impersonate a number of shareholders to save the store from a takeover bid.
It Pays To Advertise: The staff make an advertisement for Grace Brothers.
By Appointment: The staff prepare for a possible visit from the Queen.
The Club: The staff dress up to redecorate their social club.
Do You Take This Man?: The staff are invited to Mrs Slocombe's wedding.
Happy Returns: The staff stage a ballet for Young Mr Grace's birthday.
Strong Stuff This Insurance: The staff take a keep fit class to prepare for their medical examinations.
The Hero: Captain Peacock challenges a fellow staff member to a boxing match.
Anything You Can Do: The staff take over the canteen kitchen for a day and dress appropriately.
The Punch And Judy Affair: The staff stage a life-size Punch and Judy show.
Is It Catching?: The whole department is placed in isolation when Mr Humphries contracts a rare disease.
Closed Circuit: The staff go to dinner at a posh restaurant.
The Erotic Dreams Of Mrs Slocombe: The staff watch a ballet.
Roots?: The staff put on a cabaret for Old Mr Grace's birthday.
Monkey Business: The staff go see Margaret Thatcher.
The Hold-Up: The staff attempt to catch some burglars and dress up as dangerous criminals in the process.
The Night Club: The staff opens a night club on the department floor and makes an advertisement for it.
The Pop Star: The staff give a concert on live TV.
Community content is available under
CC-BY-SA
unless otherwise noted.